Wedding Anniversary Gifts: The Best 21 Websites
Are you confused about where to buy a wedding anniversary gift for your favourite couple? Do not worry. We have curated a list of unique gifts and websites where you can find them. Have a look –
#1. Amazon
It's 2019 and technology has made our lives much easier. Another such invention is Amazon Echo – a smart speaker with Alexa. It enables you to control your smart devices with just your voice and is an excellent gift for someone you are close to.
#2. Shaze
This one is for the religious couple who like to be in the presence of the Almighty. Shaze is known for its elite and statement pieces that are absolutely eye-catching. If you are looking for a classy gifting option, then have a look at its collection. This silver plated Ganesha idol will bring positivity in any room. It makes for an elegant home decor piece.
If budget is not an issue, then go for this breathtaking piece by Swarovski. The crystal leopard is the epitome of grace and power and will change the whole feel of the room with its presence. It is truly a piece of art. Swarovski is a label known for its mastery in design and owning a piece of it is indeed a pleasure. It is a gift that will indeed be appreciated by your friends.
Archies has been synonymous for gifts and greeting cards. Their online store has a wide range of gifts as per occasions. You can always pair a gift with a cute card. For the romantic souls, go for this beautiful lantern with a dancing couple. It has an LED light inside and doesn't need a cable so that you can move it around.
#5. AA living
If you are looking for a more practical gift option, then go for this stylish and comfortable bedspread set. The French-inspired subtle patterns give it an elegant look, and the cotton fabric makes it comfortable to use as well. AA Living is a high-end home decor brand and is known for its uncompromising quality and exclusive designs.
#6. Ferns N Petals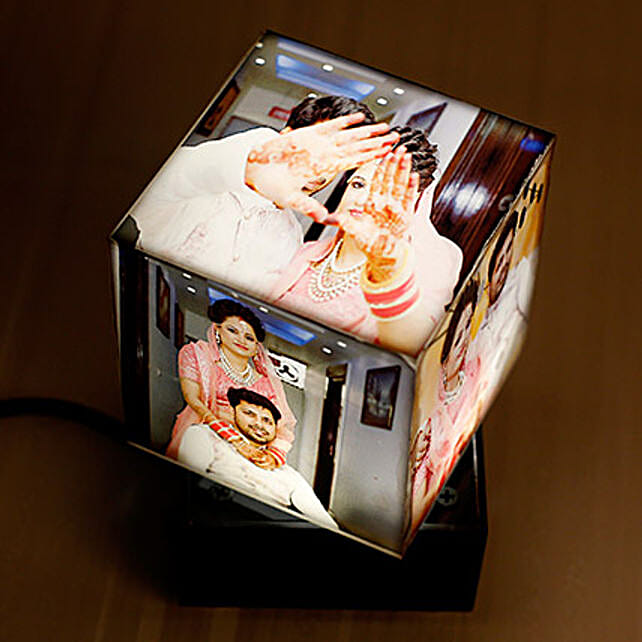 Personalised mugs and pillows are too overdone. Check out this cool new personalised rotating lamp. Surprise a couple with this amazing lamp filled with their pictures and light up their lives. Ferns N Petals has a variety of great wedding anniversary gift options to choose from. You can also send your loved ones a plant for their anniversary.
#7. Tidy Homz
If you are looking for something useful, then buy this multipurpose trolley. If your friends love to play host and have guests over, they will definitely appreciate this present. This trolley can be used as a side table or to move food around.
#8. Croma
Your millennial friends are going to love this gift. A bluetooth speaker will not only rock every house party they ever host, but it's also the perfect companion for a romantic date night and Netflix and chill. Croma has a wide range of electronics that can be great wedding anniversary gifts.
#9. Nearbuy
Who doesn't like a full body massage? You cannot go wrong with this gift. Surprise your friends with a couple spa voucher from Nearbuy. You can choose a spa close to the couple's residence for their convenience.
This one is for the movie lovers who like the whole experience of going to multiplexes and watching the latest films while munching on some cheese popcorn.
#11. The Label Life
For the lovers of fine scotch and great wine, there isn't a better wedding anniversary gift than a bar box set. This beautifully textured faux leather bar box set comes with 2 whiskey glasses, 2 shot glasses, 1 measuring peg, tongs and a hip flask. The box also has a lock in case you don't want your kids snooping around. The Label Life has impressive collections of women's wear as well as home decor and kitchen items.
#12. Momentz
Momentz is known for their lovely gift options like this set of 2 glasses and a rectangle tray. It's not only useful but will also look beautiful on your bedside table.
#13. Taj Group of Hotels
Taj Group of Hotels owns some of the best properties in and around India. You can give a couple the Taj gift card that can be redeemed at many of their hotels. The card can also be redeemed for a spa at one of their hotels.
#14. Genesis Luxury
Luxe Club is a customer reward program for luxury brands like Salvatore Ferragamo, Giorgio Armani, Jimmy Choo, Bottega Veneta and many more. Their gift cards can be redeemed at any of their partner brands. This gift is for the couple who loves labels and brands.
#15. Wishing Chair
For all the plant lovers, this is one of the cutest gifts. The peppy yellow planter will brighten up any space. Gift it to a couple who is fond of gardening.
#16. Forest Essentials
Forest Essentials has the most amazing ayurvedic beauty products that come in various fragrances. The products in this gift box are infused with Parijat flower and are made with natural ingredients. This is another useful gift that any couple would enjoy.
#17. IGP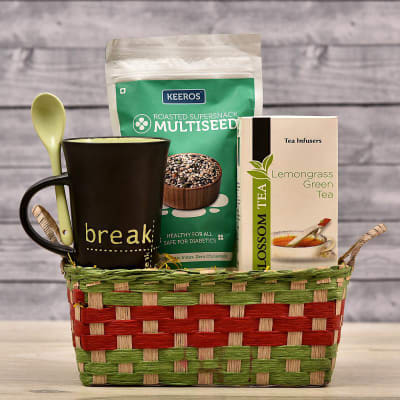 For a health and fitness conscious couple, here is a healthy food hamper consisting of Lemongrass and Green Tea infusers, multi-seed snacks, a mug and a cute little jute basket.
#18. Fizdi
For the couple that loves and appreciates art, what can be a better gift than a handmade painting? Fizdi is an excellent platform where you can buy modern artworks by various artists online. There are over 25000 options to choose from. This lovely painting of a couple taking a walk is all about romance and makes for the perfect anniversary present.
#19. Good Earth
The dining collection by Good Earth comprises of elegant and timeless pieces that are worthy of being passed on to the next generation. The intricate design and lovely colour palettes can be seen on every piece they make. This set of cup and saucers look classy and beautiful. The set is made of fine bone china, and the design of the set is inspired from 18th century Europe and includes detailing with 24- karat gold. This gift will undoubtedly impress your friends.
#20. Titan
Titan has launched an amazing collection of couple watches that make for a wonderful wedding anniversary gift. This rose gold set of watches are simple, elegant and will go with almost every outfit. They can be worn at work or a wedding ceremony. Titan also has separate watches for men and women, and you can always mix and match to make a set.
#21. Oye Gifts
How unique is this wedding anniversary gift comprising of a personalised photo frame lamp with the surname of the couple and their picture? It will be a beautiful addition to their home.
You can also check out some DIY anniversary gifts to make for your special one! For more ideas on anniversary and wedding gifts for a couple, visit weddingwishlist.com.